2023 Registration will be open soon!
We can't wait to kick off the season! Please take a moment to review the details below!
Here is the GCYFL Age/Weight Chart to help with participant level placement: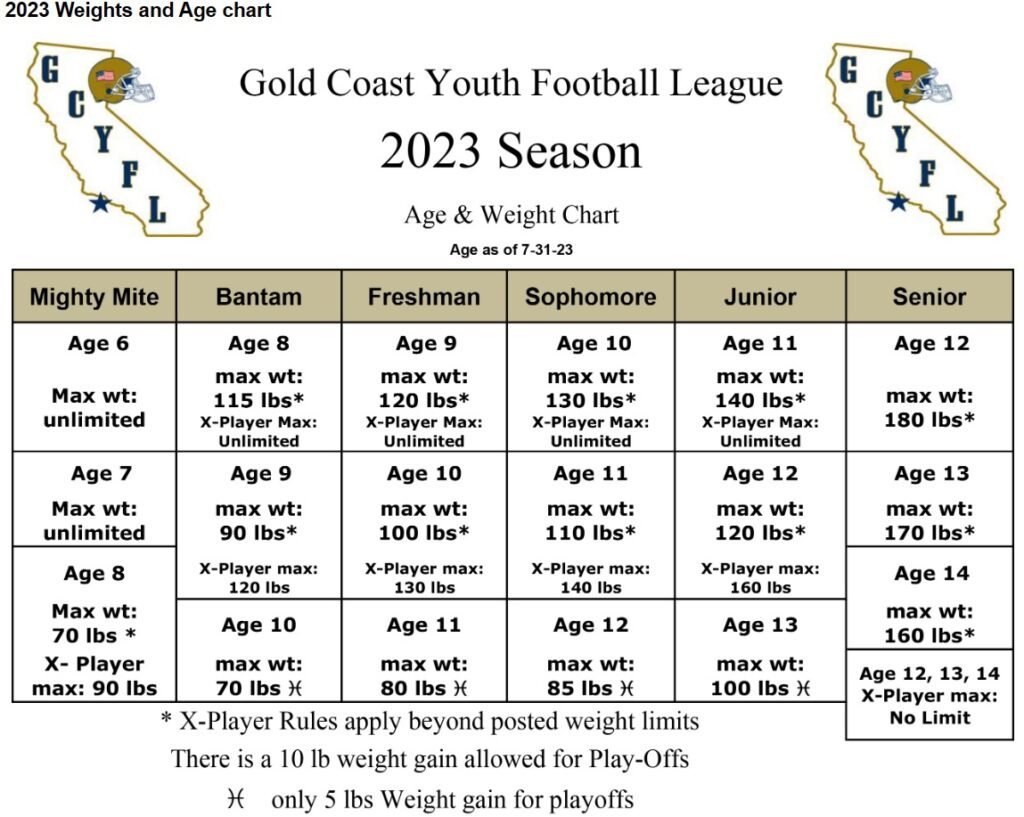 Prior to Practices Starting
Each player is required to have a physical form which can be located here.
Practice Details
First two weeks are conditioning, 2 hours a day, five days a week (please work with your coach if you are not able to attend consecutively)
First day of practice: July 17, 2023 (note: we do ask families to prioritize practices as much as possible)
First week attire: shorts, t-shirt and cleats
Second week attire: Full pads, no contact with other players. All football equipment will be provided (with the exception of cleats and a protective cup, recommended but not required). Practice attire is at the discretion of the coaches, as well as dependent on the hours for filled by the player.
August practices are usually Monday thru Friday, with possible scrimmages. After school starts, practices are usually 2-3 days a week.
*Please note, safety is always a top priority which means all players are required to have 10 hours of conditioning completed prior to pads and helmets being issued. In addition, players are not able to participate until all required registration items and forms have been completed and accounted for.
If you have any questions, please don't hesitate to reach out to [email protected]
Important 2023 Season Dates:
First Day of Practice:
July 17, 2023
Playoffs begin:
D2 – TBA
D1 – TBA
Book Certification:
August 2, 2023
DIVISION 2 Championship:
TBA
Player Weigh-in Certification:
August 5, 2023
GCYFL D1 Superbowl:
TBA
Jamborees:
August 12, 2023
GCYFL All Star Games:
TBA
First Game of Regular Season:
August 26, 2023
Playoff Certification:
TBA
Games could be played at the following locations:
• Newbury Park High School
(Steelers home field)
• Pacifica High School
• Saugus High School
• Rio Mesa High School
• Santa Paula High School
• Harvard Westlake High School
• Carpinteria High School
• Golden Valley High School
• Crespi High School
• Vasquez High School
• West Ranch High School
• Notre Dame High School
• Fillmore High School
• Saugus High School
• Ventura High School
• Ventura College
Calendar of Events
Nothing from October 1, 2023 to October 31, 2023.
The following terms apply to all levels of NP Steelers Youth Football and Cheer:
NP Steelers Youth football and Cheer is a nonprofit organization. Our board members and coaches volunteer their time to make sure the youth in our community have a safe place to play football and cheer. Each family of a registered participant is required to volunteer throughout the season in order to keep our organization functioning properly. If you would like to opt out of volunteering, you may do so by sending an email to [email protected]. There will be a fee of $200 to opt out of volunteering.


During the NP Steelers 2023 season there will be a fundraising campaign. Each family of a registered participant will be required to participate in the fundraising efforts. If you would like to opt out of the fundraising efforts, please send an email to [email protected]. There will be a $100 fee to opt out of fundraising.

NP STEELERS YOUTH FOOTBALL AND CHEER REFUND POLICY:
Parent or Guardian must send a request for refund to the President at: [email protected]
For registrants to the NP Steelers 2023 season, from February 1, 2023 – May 31st, 2023, the registration fee collected is 99% refundable. (1% will be kept to cover service fee). From June 1st – Day before first day of practice, the registration fee collected is 50% refundable. NO REFUNDS after the first official practice (July 17, 2023).
Newbury Park Steelers reserves the right to refuse business to anyone.
Our Tax ID #46-520904